In our kennel there is no more than a few litters a year. Since the birth of the puppies grow up in our culture among the residents. Are taken on the hands, cuddled and stroked the first hours of life, to touch human hands was not a stranger to them. Because puppies are raised in the house does not sound alien to them are household appliances such as TV, vacuum cleaner, radio, etc. We make every effort to ensure the proper development of the psyche puppies from the first hours of life. If it is sunny beautiful weather, babies go for a walk with her mom in the garden that also got to know the world outside, breathed świeżutkim forest air and caught the rays of the sun.
At the age of 6 weeks after the puppies are 2 times odrobczeniu are 1x vaccinated livestock and overhauled the Kennel Club. During the review of the puppies are tattooed and receive SPECIFICATIONS entitlement to issue pedigree.
Puppies leave the family nest after the end of 8 weeks.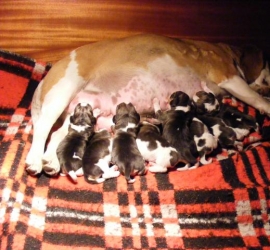 While receiving future owner will receive:


       FCI metric

       Sale and Purchase Agreement

       Health book (with a history of vaccination and deworming)

       Food for the first days in a new home